Okeil: The pro-Turkish armed factions recruited 1,316 children during the period from 2014 to 2019

 
Mukhtar: The Turkish government continues to flout international conventions that prohibit child recruitment
Maat for Peace, Development, and Human Rights issued a report entitled  "Turkey is Directly Involved in Recruiting Children from the Areas it Occupies in Northern Syria." The report affirmed that the repeated failure of the international community to act effectively to protect civilians in Syria has encouraged armed factions loyal to Turkey to commit systematic war crimes and other violations of international law, including child recruitment. The report also explained that these militias use complicated patterns to forcibly recruit children and use them as soldiers in the various areas under their control in Northern Syria, leading to the death and injury of hundreds of them. Children are either used as soldiers fighting on the battlefields or as workers in security services, such as inspecting border points or logistical support related to military operations, serving older fighters, and espionage. This phenomenon was strengthened by a set of social factors such as lack of funding and lack of awareness due to the lack of education, which facilitated the recruitment of these children on an ideological basis.
The report revealed that Turkey is not only involved in the recruitment of children in northeastern Syria but also in transferring and using them as fighters in Libya to support the Government of National Accord, Turkey's political ally, by using security companies such as SADAT International Defense Consultancy, which recruits children under the age of 18 to participate in armed hostilities, especially in Libya.
For his part, Ayman Okeil, president of Maat, said that the pro-Turkish armed factions in northeastern Syria recruited about 1,316 children during the period from 2014 to 2019, according to UN reports and Maat's observations, which violates all international conventions and treaties prohibiting the recruitment and participation of children in armed conflicts and related actions. Okeil explained that Turkey has sent about 380 children, recruited by the factions loyal to it in northern Syria, to fight in the various conflict areas under their control, especially Libya, leading to the death of about 25 children.
For his part, Muhammad Mukhtar, a researcher at Maat, added that the Turkish government jas acceded to most of the international conventions that prohibit the recruitment of children under the age of 18, whether directly or indirectly, however, it flouts these international conventions, agreements, and UN resolutions, and continues to provide full support to its loyal armed factions in Northeastern Syria, in order to recruit children to participate in armed conflicts.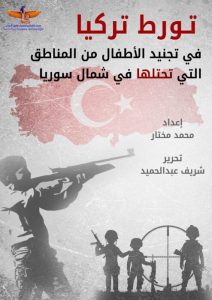 To get a copy of the report, please complete the following information: